+
We can see you are located in UK, you might want to checkout the site in english!
Take me there!
Power Stow welcomes

new Business Development and Sales Manager for Latin America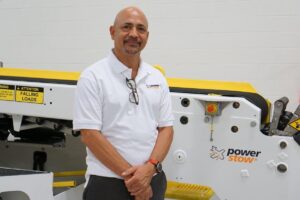 Felix Delgado – Business Development and Sales Manager
We are pleased to announce that Felix Delgado has recently joined the Power Stow Americas team as Manager of Business Development and Sales.
Felix will be concentrating on the growth of the Latin American, the Caribbean and Brazilian Markets.
Felix has a proven track record in Latin America with companies such as John Deere and Caterpillar. He has been very successful in business development, consultative selling, construction machines demonstration, B2B sales and customer training.
Felix holds a Master of Industrial Engineering from Indianan State University and an MBA from the University of Saint Thomas in Saint Paul Minnesota.
Felix's native language is Spanish and has working knowledge of Portuguese. He is highly focused on customer service, consultative selling and providing solutions and services to customers and therefore, will be a great fit to the Power Stow culture.
Commenting on his appointment, Felix said:
I am very excited to join Power Stow Americas, and I'm looking forward to working with the outstanding Power Stow team to grow our market share, increase sales and profitability in Latin America.
We welcome Felix to the Power Stow Team.