+
We can see you are located in UK, you might want to checkout the site in english!
Take me there!
Event
The GHI Big Debate Webinar: Safety on the Ramp
Date:

30 - 30 September 2020

Location:

Webinar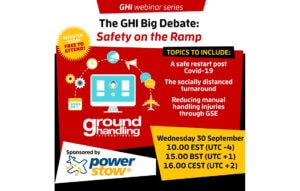 As operators begin to restart their operations – GHI examines the safety risks awaiting employees upon their return to the apron and what employers can do to manage the dangers.
The session will explore what steps businesses should take before redeploying ramp teams – who may have been furloughed or on reduced hour working – to full turnaround duties. Is this a golden opportunity to reinforce core safety principles on our people. How do you turn safety from a reactive tick box exercise into a proactive culture of keeping colleagues out of harm's way.
Panellists from airlines, ground handlers and GSE suppliers will also assess the implication of social distancing measures on turnaround activity and analyse how we balance implementation with the practical challenges of high intensity activity in often confined areas like aircraft holds. And, we'll be assessing innovative GSE safety solutions with an emphasis on preventing preventable manual handling injuries- responsible for a third of all workplace injuries according to industry figures.
Register for the free-to-attend session here ▶
Topics:
A safe restart: What best practice measures should stations be taking as they look to reintroduce employees to the apron environment? Training and refreshing safety awareness.
The socially distanced turnaround: examining how an emphasis on physical distances balances with the demands of turning an aircraft. How will we accommodate distancing into SOPs when the OTP pressure is on? We'll also look at PPE and cleaning implications following the Covid-19 crisis.
Reducing manual handling injuries through GSE: back strains, musculoskeletal disorders and injured arms and legs are an occupational hazard among our ramp teams performing heavy lifting, pushing, pulling and carrying. We'll examine what role innovative GSE can play in reducing the injury risk and leading to more productive and healthier operations.