+
We can see you are located in UK, you might want to checkout the site in english!
Take me there!
Versatile belt loader extension
Designed for reliability and ease of use
Semi-automatic loading / offloading of baggage and cargo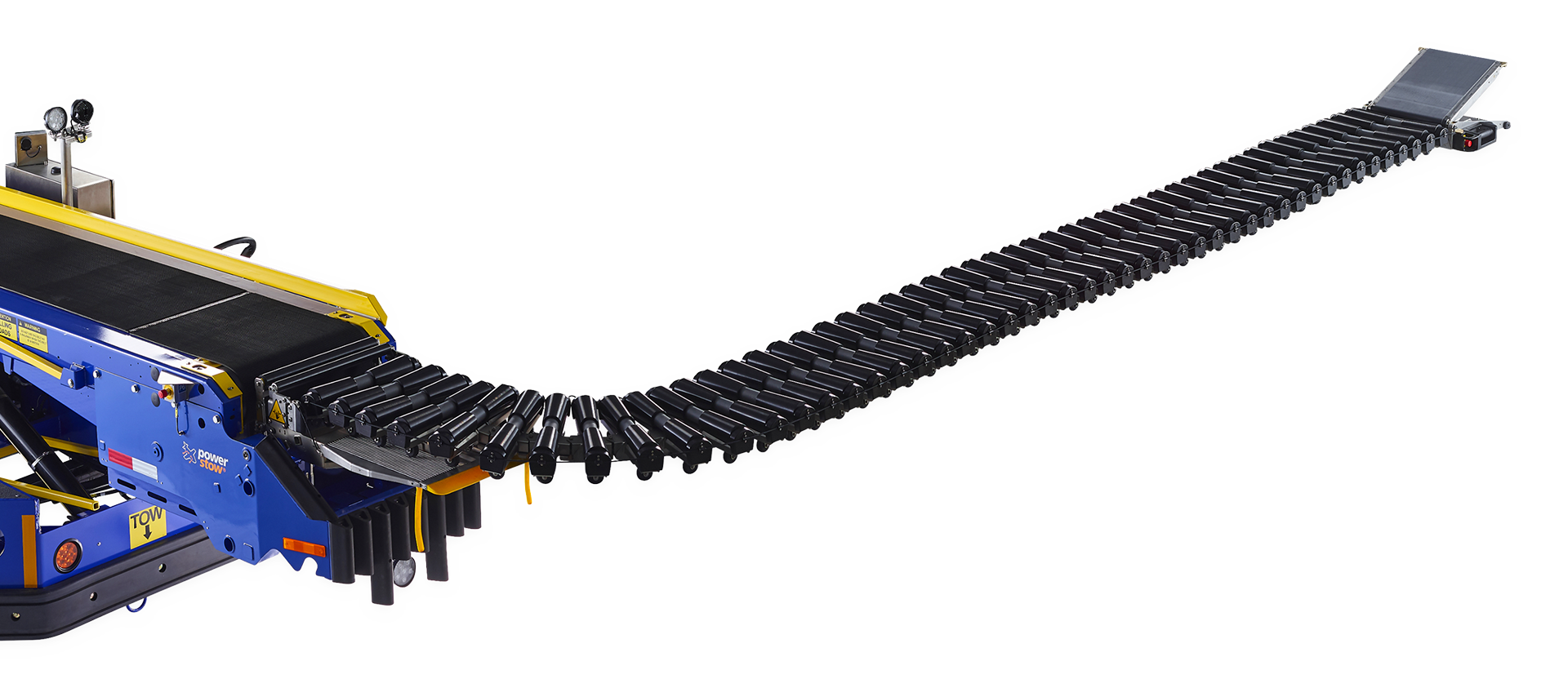 Introduction
How does it work?
Simple operation and full flexibility
The Rollertrack Conveyor is an extension to a standard belt loader. It reaches inside the aircraft bulk hold, makes a 90° turn and quickly and reliably delivers bags to the ramp agent inside the cargo hold.
The Rollertrack Conveyor system enables airport ground handlers to load and unload bulk baggage and cargo faster and more efficiently, while also reducing the physical strain on the ground handling staff.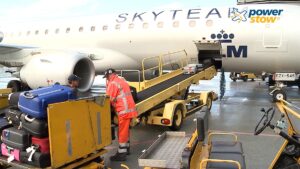 Built on customer experience
Great power, great benefits.
Benefits
Faster turnaround
Low Total Cost of Ownership
Rapid return on investment
Save aircraft fuel
Less damage
Improved working conditions
Faster turnaround
Global studies have shown that airlines and ground handlers achieve much faster turnarounds with the Power Stow Rollertrack Conveyor.
Current customers unload/load 25%-30% faster with the Rollertrack Conveyor compared to conventional belt loaders.
The Rollertrack Conveyor system:
Improves turnaround times with fewer employees
Is particularly effective on heavily loaded and higher capacity aircraft (i.e.: B737-800/900 or A321)
Is very effective in late inbound aircraft situations
Improves first and last bag times to baggage claim
Improves transfer bag connection
Feature overview
The Rollertrack Conveyor
Key features

Overview
1. Auto-levelling system
2. Double conical rollers
3. Patented elastic guide
4. Intuitive Handles
5. Elevating loading head
6. Safety
7. Bag counter
INNOVATION AND EXCELLENCE
Extendable belt loader system
The Rollertrack Conveyor is a versatile belt loader extension that is built into a mobile belt conveyor in order to facilitate the loading and offloading of passenger baggage and cargo in the aircraft cargo hold. The Rollertrack Conveyor is a stable and reliable operational solution.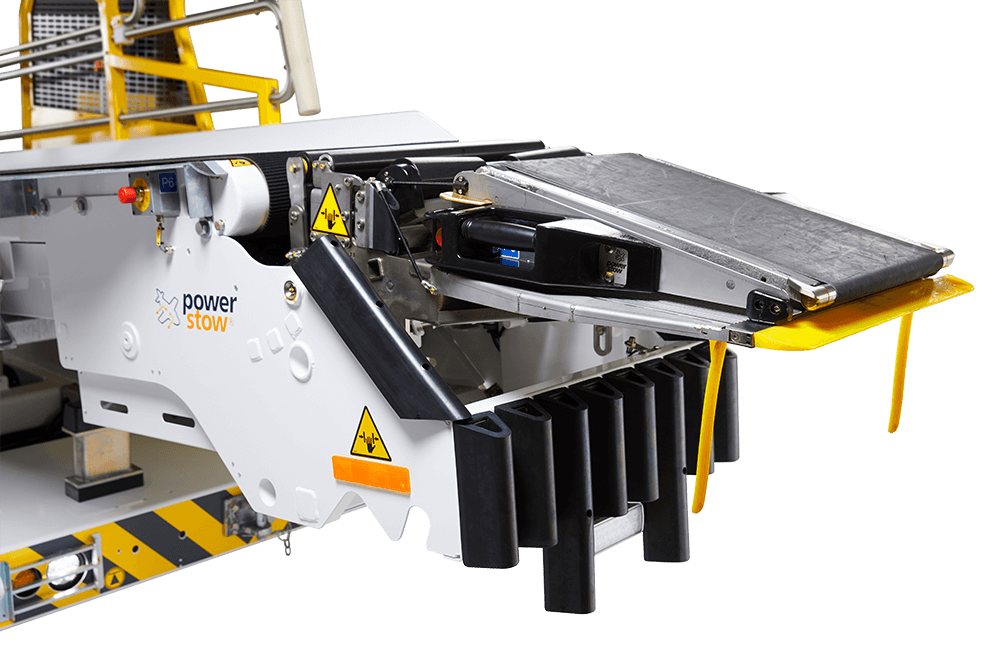 1. Auto-levelling system
The elevation of the belt loader is automatically adjusted to accommodate vertical movements of the aircraft during cargo and passenger operations.
2. Double conical rollers
The Rollertrack Conveyor guides baggage around a 90-degree corner. The double conical roller system guides baggage and cargo quickly and reliably around sharp corners and down the straight for stacking in the hold or on the belt conveyor.
The Rollertrack Conveyor system handles all shapes and sizes of bags and cargo, including conventional passenger baggage, bulk cargo, pallets or over-sized equipment.
3. Patented elastic guide
The patented elastic guide prevents straps from becoming entangled in the chain links.
4. Intuitive Handles
Simple two-handle operation.
For simple and fast baggage handling, Power Stow Rollertrack Conveyor is operated by two intuitive handles only.
5. Elevating loading head
The elevating loading head ensures more ergonomic baggage lifts and minimizes the risk of serious injury to baggage handlers. Baggage slides smoothly on and off the loading head. The baggage handler avoids lifting and twisting movements.
6. Safety
The Power Stow Rollertrack Conveyor has several features designed to optimize operator safety, protect against pinch points and prevent aircraft damage.
7. Bag counter
Keep track on your baggage handling operation with Power Stow´s bag counter. The automatic counter keeps tabs on the number of items loaded and unloaded.
Technical overview
Aircraft compatibility
The system is particularly effective on bulk-loaded and higher capacity aircraft, such as:
Airbus
A220, A318, A319, A320, A321
Boeing
B717, B727, B737, B757
SAAB
2000, 340A, 340B (cargo aircraft)
Compatible belt loaders
The Power Stow Rollertrack Conveyor is compatible with several types of belt loader:
TLD
NBL diesel and electrical
MULAG
Orbiter diesel, electrical and gas
TUG
Model 660 gas and diesel, electrical
TIPS
CB1042EPS diesel and electrical
Downloads
Rollertrack brochure
Rental
Power Stow offers flexible rental of extendable belt loaders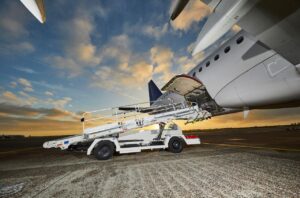 Contact sales
For more information, references and product inquiries, please contact our sales agents