+
We can see you are located in UK, you might want to checkout the site in english!
Take me there!
Event
Meet us at the GSE & RAMP-OPS Global event in Seville
Date:

19 - 21 June 2023

Location:

Seville

Stand nr.:

21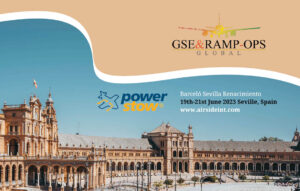 The GSE&RAMP-OPS Global event will take place at Barceló Sevilla Renacimiento in Seville, Spain.
The conference offers a great networking opportunity for ground handlers, airlines, airports and suppliers.
We are looking forward to see you at STAND 21, where you can receive firsthand information about our latest products and services. We will have video demonstrations on stand about the Rollertrack Conveyor and the Transfer Belt.
We look forward to seeing you there!
Read more about the exhibition: