+
We can see you are located in UK, you might want to checkout the site in english!
Take me there!
GSE Expo Europe 2022
- a new show for the GSE community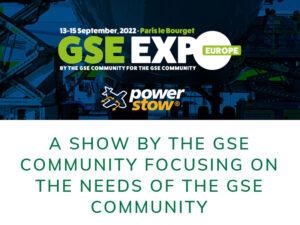 In collaboration with several IAEMA members and GSE manufacturers Power Stow has decided not to attend the 2021 inter airport Europe exhibition in Munich.
However, we are glad to share with you that Power Stow is involved in the launch of the first GSE Expo Europe! A show organized by the GSE community, for the GSE community.
The expo will take place from 13-15 September 2022 at Paris Le Bourget, which is home to the Paris Air Show and is a perfect venue for a GSE focused event.
At the show, GSE manufacturers will be showcasing product innovations and new technologies including alternative fuel use, hybrid and electric vehicles, battery technology, anti-collision systems, autonomous vehicle technology, safety features, and much more. The new show will be a great forum for stakeholder collaboration between GSE manufacturers and customers.
The organizers behind the expo are IAEMA and the industry renowned Ground Handling International.
In the future this event will take place in the even years in Europe, opposite the US based International GSE Expo which will take place in the odd years.
Save the date! We are looking forward to seeing you at the new GSE Expo Europe in Paris next year!
Learn more about the expo at https://www.gse-expo-europe.com/
Click here to read a letter from Michael Bloomfield, IAEMA Chairman, to IAEMA members on the show launch.