+
We can see you are located in UK, you might want to checkout the site in english!
Take me there!
Power Stow welcomes

new Area Sales Manager, UK & Ireland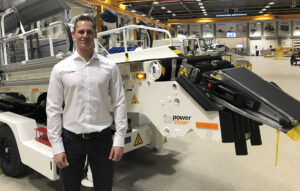 Jon Wells – Area Sales Manager UK & Ireland
We are delighted to announce that Jon Wells has joined Power Stow as our new Area Sales Manager for the UK & Ireland.
Jon has a wealth insight and relationships within the GSE industry, as he for a period of 13 years was an Area Sales Manager at ITW GSE selling 400Hz and 28v DC GPUs which provide power to aircraft when on the ground.
Jon has worked with customers from Europe, Middle East & Africa, being responsible for the sales and support into 70 countries and then for the last 2 years he was responsible for the UK & Ireland.
Based near London, Jon is well positioned to reach out to our customers and show them how our market leading baggage handling systems can benefit their ground handling operations.
We welcome Jon to the Power Stow Team.