+
We can see you are located in UK, you might want to checkout the site in english!
Take me there!
Ramp Equipment News -

Beltloaders special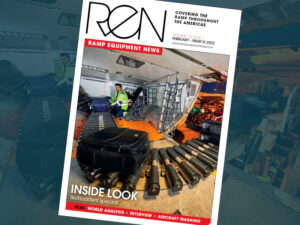 Ramp Equipment News – a publication mainly focused on the Americas region – just released its newest issue, which focuses on belt loaders on the US market. The article includes an interview with Ben Reeves, VP of Power Stow Americas, as well as input from other GSE manufacturers from the industry.
Ben Reeves said that 2022 had already started strong for the company because of an increased demand for hybrid automation caused by labour shortages affecting the ground handling industry.
"The demand is particularly fuelled by the need for semi-automated equipment to enable a lean ground operation, since all handlers are faced with a shortage of staff, high turnover of staff and consequently high on-boarding costs of staff. Furthermore, among many of the benefits, our semi-automated equipment enables ground handlers to reduce operational costs and optimise their teams, as well as improving ramp agents' working conditions and efficiency."
Click on the image below to read more: